From yensdesign we develop technology projects based on web apps, mobile apps, consulting and databases. We are young and hard workers, passionate about innovation and focused in new technologies.
If you want to ask for a budget,
we hare available for hire!
.

October 3rd, 2008
Hi folks! In this tutorial We will learn how to create a database for a complete and professional forums system. I want to present you an awasome utility for designing and creating databases: MySQL Workbench.
MySQL Workbench is a visual database design tool that is developed by MySQL. It is Free, Open Source under GPL and easy to use for design and make professional databases. You can download MySQL Workbench in the official downloads section.

Note:You don't need to register on the official website, just click "Pick a Mirror" and then one more click at "No thanks, just take me to the downloads!" to avoid registration process.
So now, We know what We want: a brilliant database for our forums and what We will use: MySQL Workbench. It's time to dive into the code guys but first of all take a look at the final result:

Isn't easy? Yeah It is easy, so Lets Go! If you are so impatient, you can download the sources here.
Step 1: Thinking about forums flow
As always, We must do a mind-map of our problem, in this case It is a brilliant database for our forums, so let's think in this schematic list:
Users: We need users in our forums, They will register and post in them
Messages: Users posts messages, right?
Polls: But They posts polls too with lots of options…
Categories: All these messages and polls are organized in categories… We don't want a chaotic forum, we want a brilliant forum, remember?
Subcategories: Because our forums will be brilliants… but big too, We want to organize it a bit more in subcategories
We suppose that in our forums, users will register to create posts, maybe They want to attach a poll to It and select a category for the post. Other users will response to our post. So in a first approuch, We need to save all this data in tables: Users, Posts, Posts Polls, Categories, Subcategories.
Step 2: Explaining a little bit the schema
It's impossible to explain detail by detail the schema of our database, but I will comment some interesting points in this one:
The table forumPosts is used to save all posts in all topics, including the main post in a topic (the first one). By using the same table and the column parentPost We can determine if an entry of the table is the first post of a topic: when parentPost is null or It is a reply of the main post: parentPost is NOT NULL (it is the id of the main post).
By the way the boolean column called isPoll of forumPosts table determines if our topic has or not a poll attached. Isn't easy? We have in one table the information about:
The first post of a topic
So, we can identify the topic by this first one
Replies of a topic
If the topic have or not a poll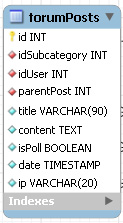 In the other hand, forumPollOptions is linked with the forumPosts table to allow us to create and know what poll is the parent of the options, and It is linked with the votes of the users forumPollsVotes too to count the votes in our polls and to identify the users that have voted.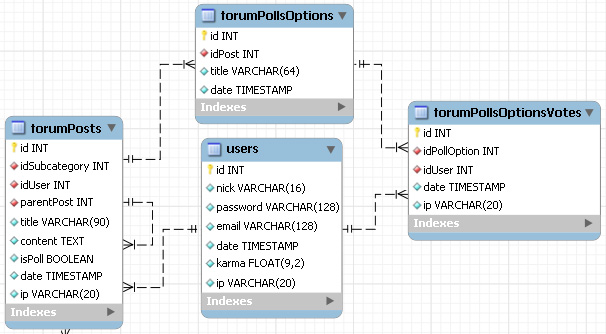 And finally, as We said, we want categories and subcategories for our forums so they are called: forumCategories and forumSubcategories. They just are related to allow us to build the index of our forums with their categories on our future webpage. And remember that forumCategories is linked with forumPosts too to know what is the main category of a topic.

Step 3: Starting with MySQL Workbench
I suppose you have installed MySQL Workbench. If don't, You can download it here but if You prefer to use another Software to follow this tutorial and design the database It's ok, You only need to understand the schema of the datebase, not repeat mechanic method without understand the explanation.
Using MySQL Workbench is so simple and intuitive, let's create our first table example based on the schema that I showed you at the begining of this tutorial: Users table.
Users table:
id [ int ] PRIMARY KEY, autoincrement
nick [ varchar(16) ]
password [ varchar(128) ]
email [ varchar(128) ]
date [ timestamp ] default: CURRENT_TIMESTAMP
karma [ float(9,2) ]
ip [ varchar(20) ]
It's important to have a previous mind-map and the complete schema of our database before using MySQL Workbench. You only need to think about what do you need in your system, draw the schema/concept on a paper, normalize it and then start coding / using MySQL Workbench.

Note: If yo need more info about collations or engine databases you can check it here and here.
First of all rename the database. Then to create the first table click on "Add Table", select a name, a collation (in our case utf8 – utf8_general_ci), the engine InnoDB and type a comment for the table if you want it. Here you have a screen if you are lost: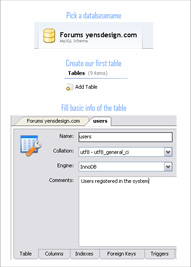 The next tab: Columns will be for setting up the columns of our table, just click on it and start to fill all columns that we listed before: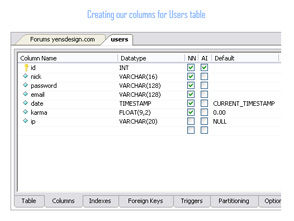 As you can see, MySQL Workbench does It easy, We only neet to know what schema we need and then click by click We will finish our database to export to a .sql file.
Step 4: Building the rest of the database
I can explain one by one all tables of the database, but as you saw It's so easy, the problem is build the initial schema of the database… and It only can be done with practise, more practise and a lot of reading about Entity Relationship Model and Database Normalization.
Note: In the rest of the tables you will see some data in the Forein Keys tab.
Step 5: Trying and downloading source files
As always I let you download the sources of the tutorial. Here you can download the source files here that gots the entire project that we create on this tutorial. Sorry for my english one more time, I hope you can understand my explanation and see you soon in the next tutorial guys.
Thank you!
Become IT expert with XK0-002 online course. We offer expert 310-065 resources including 646-205 live demo to help you learn useful web application even if you have no IT background.
Enjoy this post?
Your vote will help us to grow this website and write more entries like this one :)
From yensdesign we develop technology projects based on web apps, mobile apps, consulting and databases. We are young and hard workers, passionate about innovation and focused in new technologies. We try to help you, sharing our knowledge acquired on worked projects, while helping the community and showing our capabilities.
If you want to ask for a budget,
we hare available for hire!
Don't doubt in
get in touch with us!
.