Wednesday, January 21st, 2009
What's up guys! Last hours I have spent my spare time in creating anoter simple and clean theme for submit it to Themeforest, as you may know the marketplace of envato, where users can submit and buy (x)HTML, WordPress, Joomla themes and more.
This time I tried to create a very clean template for personal websites such portfolios with one thing in mind: tell to to world who I am. I am happy with the final result, considering the time invested in the theme.
I called it Cleanfolio, judge for yourselves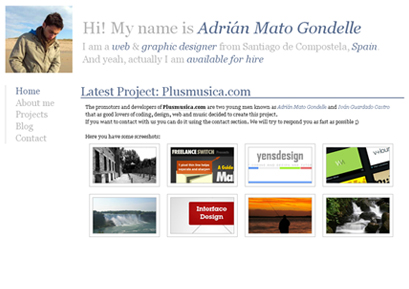 I have reused some interesting things in javascript from the Dark Elegance theme like validation form and a fade in / out effect to the transition between sections.
Comments about the theme please!!